Hello and happy Friday!
Welcome to our Paper Adventures team blog hop for this month. Tonight we have creations designed to showcase the Stampin' Up!®️ COLOUR REVAMP. (Read all about it here.) Thanks for hopping here from Sara Levin's blog.
When we heard about the Colour Revamp, us Paper Adventurers were all guessing which retired colours we'd love to see my return. My vote was for Orchid Opulence so I was pretty happy when I saw the new colour Highland Heather – it is such a pretty purple!
I chose Flirty Flamingo and Melon Mambo to coordinate with Highland Heather. I think I'm the only one in my team who is happy to have Flirty Flamingo be added to the Brights colour family. And I remember when Melon Mambo was a new In Colour – I even still have the mini catalogue!
(And as a side note: And Sweet & Sour was my first ever stamp set purchase. I ashamed to confess I have never got this inky. Shhh!)
My card was created using the new Varied Vases bundle, as a shoe box project for a team retreat last weekend. (We forgot to take photos but I assure you we all had lots of fun and some very yummy food!)
Inspiration came from a card in the annual catalogue on the Lovely Lipstick feature page.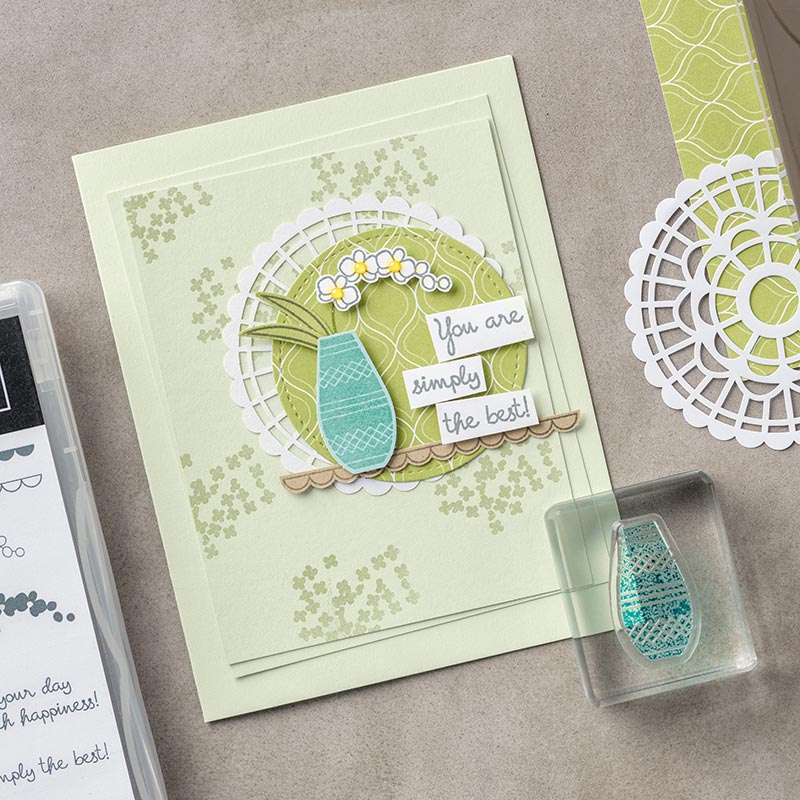 I added some sparkle to the vases and flowers with my Wink of Stella 😉 And I used the Lace Border Punch to add some Melon Mambo embellishment.
Here I am sharing with you how many different embossing folders I used to find the one that was just right… and this was after my original design was a Highland Heather card with colour on colour stamping but that did not look nice 😦 I finally settled on the Seaside embossing folder with the lines going horizontally. Decisions, decisions!
What do you think of my final embossing folder choice?
Which new colour do you love? Is there one you wished came back but didn't? Or one you wanted gone but it's not?  (Which is worse? Putting up with what you don't like or missing what you do?)
Thanks for visiting! Next in our hop is Siobhan, you will love what she has made! And then keep hopping to see everyone's post for Colour Revamp.
Narelle 🙂
Participant List
Sara Levin (guest designer)
Narelle Simm (that's me!)