Hello! Thank you for visiting my blog 🙂
Welcome to Week 9 of Social Stamping. You can click here or on the banner above to see a list of all the blog posts.
Today you are going to see all creatures great and small as our theme is 'Animals'. I'm guessing we will see some photos of furry crafting companions too.
I'm sharing two projects I've made with the retiring Wiggle Worm bundle – and yes, I checked with Google – bugs and worms are animals 😀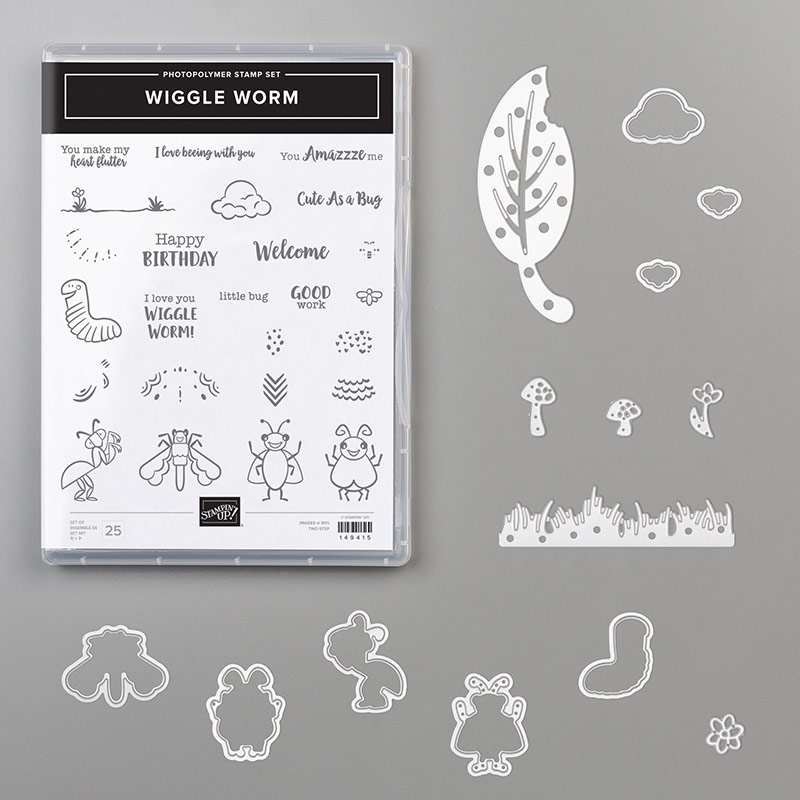 My first item is a gift holder I made for everyone when I hosted our team meeting. The colours were chosen to match a 2018 Sale-A-Bration ribbon bundle: Balmy Blue, Calypso Coral, Daffodil Delight, Highland Heather and Lemon Lime Twist. (Silly me forgot to get a photo of the full set.)
There are lots of lovely sentiments in this stamp set so I think it will stay in my collection for a while yet.
My next item is a card I made for a team swap challenge (read more about it below). Given the set is retiring I wanted to put it to good use. Basically I stamped and/or cut out one of nearly everything and then put it on the card!
There are some great dies in the Wiggly Bugs set, cute flowers and toadstools, and I love the grass and cloud dies, so this is a keeper too.
For the swap challenge we had to make 3 cards and then send 3 kits containing all the card stock and patterned paper for the cards to a team member who then used the pieces to make their own version. I decided to use retiring sets for my 3 cards, one of which was Wiggle Worm.
To say my kit recipient was a little nonplussed with this one is an understatement…
But, here is Siobhan's amazing interpretation:
I hope you enjoy visiting all the blogs, seeing the animal antics. It's a nice way to get some calm in your day.
Especially when the world continues to be a crazy place – where I live there are no active COVID-19 cases so some travel and social restrictions have been eased or lifted, but… we're all being told to stay home and batten down the hatches for a huge storm expected to hit tomorrow! We lost some of our back fence 2 weeks ago so I hope we come out unscathed this time.
Click here or the next button below to see Nikki Spencer's beautiful card.
Thank you again for stopping by!
Narelle 🙂
If you would like to see previous weeks' projects you can click on the these links:
Week 1: hello
Week 2: thank you
Week 3: rainbow
Week 4: friend
Week 5: war and peace
Week 6: birthdays in isolation
Week 7: family
Week 8: sunshine